Meet Michael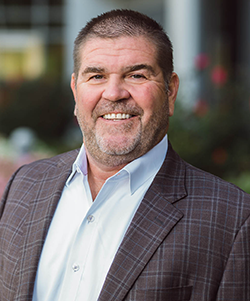 Most people have goals, but that doesn't always mean they have a good action plan for achieving them. Michael loves working with clients to identify, clarify and prioritize these goals and help to come up with the steps to reach them. Life is dynamic, so meeting regularly to affirm goals and measure progress towards them improves the likelihood of success. The long-term relationships that naturally come from this is what he has enjoyed most about his career.
Michael spends the majority of his time meeting with clients and discussing their dreams for themselves, their families and their business. He helps them look at any concerns they have that could threaten these dreams. We can't eliminate all threats, but with planning, we can certainly help mitigate many of them.
The work Michael does is very personal. He grew up in a family of 10 children, so he has a good feeling for family dynamics. His father was in this business as well, so from early on, he saw the value of the work his dad did for so many clients, and now Michael gets to see that in his own clients too. He is passionate about serving his clients in the best way possible, so he believes strongly in life-long learning. The financial landscape is constantly changing, and it's important to be aware of these changes and the new opportunities they present. Michael continues to learn as much as he can each year to help give the best advice he can, but also to know when to work with other professionals with specific expertise to ensure the best result for his clients.
In his free time, he enjoys boating and skiing. These are passions Michael has been lucky to share with his family, and he gets no greater joy than to spend time with his wife and children having adventures on the slopes and high seas.
Bucket List Vacation

To one day complete the Great Loop in our boat.

Favorite Food

Shepard's Pie

Best Sports Team

Boston Red Sox

Something You Can't Live Without

My family, then the ocean

Favorite Part of Your Day

When I get home