Meet Emily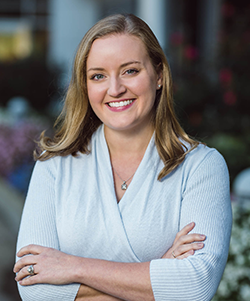 Emily supports the team at APG by managing the day-to-day functions of the office, as well as certain special projects. She also works with our clients to schedule meetings and connect them with other members of the team as needed.
Emily has always enjoyed working with a variety of people and getting to do something a little different every day. She loves that her role at APG allows her to interact with all our clients and get to know a little of their stories along the way.
Emily has been in support roles in the past and always finds herself drawn to the more boutique firms, where forming a lasting relationship with the client is key to the culture. She is also a trained musician with degrees in Voice Performance, and has performed around the United States, Canada, and Europe.
Emily lives with her husband, Chris, and their two dogs, Keeley and Fender. In her free time, you can find her hiking, cooking, working in the garden, playing the piano, or reading a good book (with a dog or two snuggled up beside her).
Bucket List Vacation

Hiking in the Alps

All time favorite food

Macaroni and cheese

Best Sports Team

Atlanta Braves

Something You Can't Live Without

Music

Favorite Part of Your Day

Hanging out with my husband and our dogs at the end of the day